[ Alvin ] My Customized Skincare Products from IDS Skincare (Review)
IDS Skincare, 23 June 2021

IT WASN'T MY FIRST TIME VISITING IDS CLINIC. THE ONLY DIFFERENCE THIS TIME WOULD BE ME BRINGING BACK A SET OF SKINCARE PRODUCTS, SPECIALLY CUSTOMIZED FOR MY SKIN.
Being plagued by skin problems such as acnes and keloids was a torture since puberty. Managing such troublesome and oily skin type was not my forte at all too.
I had retuned to IDS Clinic for a consultation with Doctor Ian Tan at Novena Specialist Center that day. Doctor Tan was already familiar with my skin conditions since I had keloid jabs done by him previously. Upon reviewing my skin condition, he prescribed a set of IDS skincare products specially catered to help improve my current skin condition.
I was then led out to another product consultation where I had my face photo taken for record purpose. One of the skin consultant then introduced to me the range of products that was prescribed by Doctor Tan, ensuring that I understood the sequence of application. I admit that I have not used this many facial products before and I felt slightly intimidated.
Thank goodness I have managed to follow my facial regime planned out diligently for the following month! I have seen improvements in my skin conditions in terms of control & repair as well as brightening aspects.
LET'S TAKE A LOOK AT MY PRESCRIBED SET OF CUSTOMIZED SKINCARE PRODUCTS SHALL WE ?
First and foremost, my daily regime starts off with the T1 Refreshing Cleanser. After wetting my face once, I usually apply a single pump onto my palms before rubbing till slightly foamy. I could detect a faint fragrance that reminded me of orange blossom as I massaged my face gently before rinsing off once again. It is known to provide deep cleansing without stripping the skin's natural protective layer.
The next step would be to apply the T1 Refreshing Toner which comes in an equally tall spray bottle. I simply spray the toner onto my palm before patting gently onto my face. You could also choose to spray directly as well. I love how it offers my face a matte finishing in the morning as it aids in unclogging and shrinking my already-large pore size.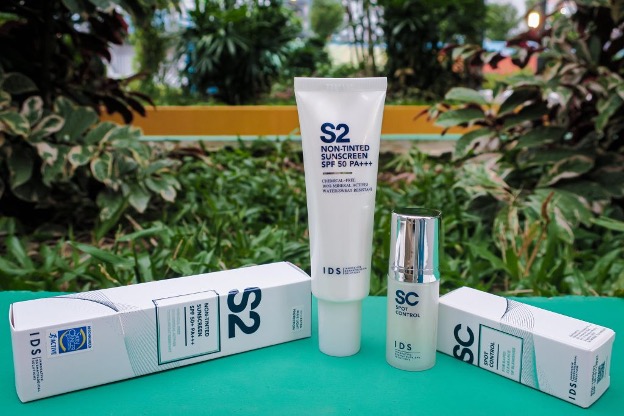 The Pore Formula is what people with oily skin would need as its purpose is to refine pores. Just a pump of its beige solution for application would help minimize oil production without drying out my face. I felt a tingling sensation every time, just like having a cool mint wash. This product is meant to reduce both blackheads and whiteheads.
Among all the IDS skincare products, the C-Plus is in fact one of my favourite topical skin care products! Besides being clear and easily applied onto my face, it is a formulated potent form of Vitamin C. Its skin lightening effect assist to even out skin tone and lightening out my acne marks.
APPLIES TO DAY TIME USE
Last but not least before leaving my home would be to apply the S2 Non-Tinted Sunscreen. Since we have to constantly put on our masks outdoors, I only applied mainly on my forehead. Its broad-spectrum SPF 50+ sunscreen basically protects my skin from 99% of UV radiation. What makes this sunscreen different would be its additional function of blue light (HEVL) protection among the other benefits!
APPLIES TO NIGHT TIME USE
Before going to bed, my facial care had another step which involved mixing both A-Plus & Recovery Serum before application. I was initially stunned by the bright yellow color of A-Plus and it has a similar texture to acrylic paint. It has age-preventive function, targeting fine line and wrinkles, as well as reduce blemish marks.
It was definitely a wise move to mix it together with the Recovery Serum for easier application. Its function includes reducing irritation, redness and improves the overall skin tone.
I definitely find the cream-like Spot Control a really useful skincare product whenever I would realize an acne was about to make an appearance on my face. Not only does it minimize breakouts but also soothes and heals skin!
After every week, I would pamper my face with a sheet of facemask loaded with 30ml of serum from DermaShield Mask Box. It basically protects my skin from UV, Infra-Red, Blue light as well as environmental pollutants. The amount of serum contained in there could provide 2 days worth of usage and is so moisturizing! Each box contain 10 sheets of mask.
You might want to check out their products here. Stay tuned to my next post on my Hydro-Therapeutics Treatment Review with IDS Aesthetics!
If you're interested in more of IDS clinic products, click here to check out IDS Clinic Pico Laser Treatment Review that I made.
*Credits to Alvin
Visit Alvin's blog post here.