[ Deenise ] I visited IDS Clinic and this is how it went
IDS Skincare, 07 June 2021
It's been quite some time since my last visit to an aesthetic clinic. I'm just glad to be invited by IDS (Innovative Dermatological Solutions) skincare to embark on a skincare journey with them. During this journey, I will be trying out their skincare products and beauty aesthetic treatments. I guess this opportunity came about as really timely because my wedding is just two months away! Who wouldn't want to have glowing and radiant skin on their big day?
IDS Clinic @ Orchard Road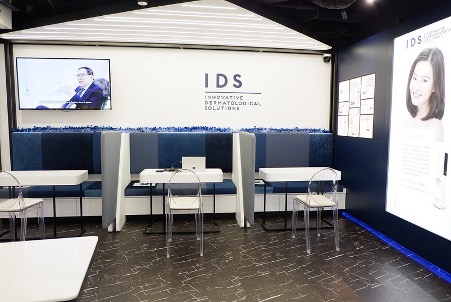 There are two IDS Clinics in Singapore – one in Novena and the other is along Orchard Road. I decided to visit their flagship store at International Building along Orchard Road because it is more central and closer to where I lived.
IDS clinic (Orchard) is located strategically along the busy shopping street in Singapore, at International Building, right above TCC. It is not too difficult to locate where it is.
Upon reaching the clinic, I was asked to fill up a customer particulars form and followed through the Safe Entry checks and procedures. Their staff is amiable and professional. After waiting for about 5 minutes, I was ushered to the doctor's office.
Seeing An Aesthetics Doctor at IDS Clinic
My consulting doctor is Dr Michelle Wong. She asked me what are my skin concerns and proceeded to recommend some skincare products and treatment I should try throughout this journey.
The whole consultation process was quite brief and quick. I told her that I would like to work on improving my skin tone and texture. Then she explained to me about IDS skincare products and how I should use them.
Testing the skincare products
I was then ushered to another room to try out the products which are prescribed to me. Their staff explains a little more in-depth about each product and when and how I should use them, based on my skin condition.
Collecting IDS Skincare products
I was surprise to see that they have a dispensary counter in their clinic, just like any other healthcare clinics. And I have to collect the skincare products at the counter but before I lugged back the bag of products, their staff opened up each box for me to verify the products and check that the seal in unbroken.
Overall, the whole consultation process was smooth and quick.
IDS Skincare Products
Prior to my visit to IDS, I actually did some research on their products and treatments. It's a brand which is endorsed by many influencers and some of them have been using IDS products for years. They also talked about the efficacy of these products and how their skin has improved noticeably after using them. I was really excited to try them for myself.
I received a full set of IDS skincare products. It includes the cleanser, toner, sunscreen and even a make-up base.
Their Vitamin C-Plus product and non-tinted sunscreen are both award-winning products and have gain accolades from fashion and beauty international magazines.
I've already started using their products on a daily basis. I will be sharing my experiences with these products after using it for about a month, in my next post.
These products below are suited for normal to oily/blemish-prone types. For me, I have a combination skin type so the products given below were suited for my skin type. Their formulas were mostly lightweight and highly absorbable.
I'm glad that they highlight all the active ingredients found in each product. As a consumer, I am always curious to find out what goes into each product and how each active ingredient can benefit my skin.
C1 Refreshing Cleanser
Active Ingredients: Hamamelis Virginiana (Witch Hazel) leaf extract and Portulaca Oleracea Extract
T1 Refreshing Toner
Active ingredients: Dimethyl Sulfone (source of sulphur), Portulaca Oleracea, Centella Asiatica and Hamamelis Virginiana (Witch Hazel) leaf extracts
PF Pore Formula (Ultra-light Pore refining solution)
Active Ingredients: 4-Terpineol (Tea tree oil), Trifolium Pratense (Clover) Flower Extract (rebalance skin condition), Syringa Vulgaris Extract (Lilac extract to reduce excessive sebum and control inflammation)
C-Plus (Brightening skin tone and improves texture)
Active Ingredients: Trisodium Ascorbyl Palmitate Phosphate, Fullerenes, Tocopheryl Acetate
Oil-free Moisturiser (Light oil-free formulation for super hydration)
Active Ingredients: Niacinamide, Ascorbyl Glucoside and Hyaluronic acid
S2 Non-tinted Sunscreen SPF50+ PA+++ (Chemical-free 100% mineral actives water/sweat resistant)
Ultra lightweight sunscreen in a hydrating and antioxidant-rich formula, with added protection against infrared and blue light as well as pollution.
Active ingredients: Zinc oxide 12% (Broad Spectrum Sun Protection against UVA and UVB rays)
DD Diamond-Dust Perfector (Make-up base with advanced diamond focus technology)
It helps to conceal fine lines, enlarged pores and blemishes.
Active ingredients are Polymethylsilsequioxane and diamond powder, light-diffusing formula that blends in seamlessly and conceals imperfections to give the skin a more uniform appearance
My Verdict
I've been using this product for a week now. Overall, their products are all lightweight and suited for Asian skin. And the product which impresses me the most is their Diamond-Dust perfector. I use it as a make foundation and it worked very much like BB cream as it helps conceals the blemishes. My skin looks almost flawless with the Diamond-dust perfector. It provides rather good coverage and it can even conceal my dark eye circles.
You can visit www.idsskincare.com for more about their products or www.idsclinic.com if you wish to know more about your skin!
Stay tuned for my next post as I will be undergoing their treatments!
*Credits to Deenise
Visit Deenise's blog post here.