Give Love, Share Joy
IDS Skincare, 15 December 2016
There's something magical about Christmas that makes it sparkle a little more.
The season of Giving, to show your appreciation to your loved ones.
The season to be Jolly, filled with hearty meals and heartfelt catch ups.
It's time for you to reward yourself for a year of hard work, with the fabulous things that make you smile.
Check your Christmas stockings because our Christmas gift sets have just arrived!
Be it the Santa Baby set for bestseller basics, or the White Christmas set for a gorgeous glow, celebrate this festive season with IDS Skincare.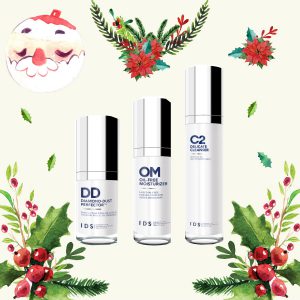 Santa Baby Set ($179)
usual price: $221, save $42!
This Santa Baby Bundle Deal consists of selectively handpicked IDS Skincare essentials for perfectly cleansed and hydrated skin. Top it up with our award-winning Diamond-Dust Perfector for an extra spark this Christmas. It consists of the following products:
IDS Delicate Cleanser: Extra gentle cleanser that is silky smooth to touch — suitable for sensitive skin

IDS Oil-Free Moisturiser: Light oil-free moisturiser with therapeutic properties

IDS Diamond-Dust Perfector: Lightweight makeup base that conceals enlarged pores and blemishes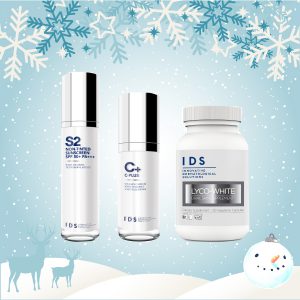 White Christmas Set ($299)
usual price: $387, save $88!
This White Christmas Bundle Deal consists of IDS Skincare's premium bestsellers dedicated to helping you achieve fairer, radiant skin. It consists of the following products:
IDS C-Plus: A high potency Vitamin C serum that helps to even out your skin tone

IDS Lyco-White: Innovative skin whitening oral supplements for fairer, healthier skin

IDS Non-Tinted Sunscreen: A sheer, lightweight sunscreen formula that glides on smoothly to give a powdery matte and oil-free finish
Both exclusive limited edition Christmas sets are now available for online purchase at idsskincare.com !
Love,
IDS Skincare