[ Mia Foo ] Starting My #IDSTransformMe Journey IDS Skincare
IDS Skincare, 16 June 2021
Growing up, I've never had the luck to enjoy a smooth, flawless complexion. And while I was feeling lucky enough to be only experiencing a few blemishes here and there during puberty while my peers battled with full-face acne problems; my luck soon ran out and I found myself battling a serious case of adult acne in my early twenties. Needless to say, that dark period left me scarred for life (LITERALLY) and the acne problem followed me well into my 30s in the form of period breakouts and now, the dreadful maskne (mask acne).
So when Studio 155 offered to bring me on a 4-months #IDSTransformMe journey, I simply couldn't be any happier to take it!
IDS (Innovative Dermatological Solutions) exist to deliver new innovative standards in skincare, and comprised of three entities: IDS Clinic, IDS Aesthetics and IDS Skincare. And my #IDSTransformMe journey naturally started off with IDS Clinic, at one of their branches located at the International Building.
The clinic, located at the corner of level 2 of the building, was pretty easy to spot with its brightly lit and spacious layout. There was some technical issue when trying to submit my e-declaration form (for the current covid19 situation) and countless refreshes were required before I finally managed to fully load the page, but it might be just me (M1, why you like that?!) or also coupled with the fact that they're stuck right at the corner of the building, hence the sucky connection.
Anyhow, apart from that minor hiccup, everything was smooth and I was quickly whisked away for my consultation with Dr. Ben Yim.
Dr. Yim was quick, but thorough with his consultation and I reckon he could easily tell that I once had a very serious case of (adult) acne from the acne scarring I have on my cheeks. In no time (after a couple of questions and answers), he was dropping off a list of products from the IDS Skincare line to my consultant, Mary, who then led me back to the reception area to get me started on my brand new skincare regime.
This is probably the very first time in my life that I'm using more than 2 products (much less to say, the entire range) from the same skincare line. Dr. Yim also recommended that I take their A+, which will help with the appearance of my blemish marks and at the same time improve my skin tone and texture, with the added anti-inflammatory benefits, but it's currently OOS, hence I'm one-short.
Anyway, my current daytime & nighttime routine is: C1-PF-C+-BC-OM (SC/FS).
Haha, sounds like a complicated mathematical equation, eh?
Frankly speaking, this is the first time in my 30 over years that I've used more than 3 (4, if you include sunscreen) products on my face at the same time, much less to say that they're all from the same skincare line. Initially I was a little worried about the time needed to smear on all these products, especially for my daytime routine whereby I NEED to get ready in the shortest amount of time possible (I mean, who has time for elaborated skincare when you can get that extra 30 seconds of sleep, right?).
But I was pleasantly surprised to find that all these products gets absorbed into my skin in literally NO TIME!
So first up, I'll start off by cleansing my face with the C1 Refreshing Cleanser (RTP $66.34).
With a gentle, pH-balanced formulation that maintains the skin's natural protective barrier, this cleanser is ideal for my oily/blemish-prone skin type, helping to deeply cleanse my skin without over-drying it. Love how it leaves my skin feeling soft and smooth (no dreadful squeaky feeling) after every wash!
Then, I'll immediately put on the Pore Formula (RTP $80.25) on my cleansed skin, around my T-Zone, concentrating more on my nose (those pesky blackheads) and chin (those pesky whiteheads and sebaceous filaments).
The PF is formulated with IDS' proprietary EULASTIN transcutaneous delivery system, which allows the active ingredients to be effectively delivered and absorbed into the skin. This non-oily, watery serum is super light and spreadable, and gets absorbed into my skin almost immediately, helping to reduce my blackheads, whiteheads and blemishes.
Just one thing to note, is that the PF leaves quite a significant stingy-prickly sensation on my skin for the first few seconds of application, that goes away once the product gets fully absorbed with a few quick taps of my fingers.
After the PF gets absorbed into my skin, I'll layer on with C-Plus (RTP $160.50) over my entire face.
C+ is IDS' popular age-defense serum, formulated with a potent form of Vitamin C and coupled with Nobel Prize 'Fullerenes' and Tcopheryl to exhibit a superior antioxidant action and strong collagen stimulation. Meaning, this watery, lightweight serum not only serves to lighten my old acne marks, but also adds on some potent anti-aging, anti-(new) acne and skin brightening benefits!
There's almost no waiting time required (as the C+ literally just sinks into my skin upon application) before I put on the Blemish Clear (RTP $73.83), also over my full face.
IDS' completely new formulation, the BC is an extremely effective gel-cream that helps with the rapid clearance of active and inflamed pimples. This is like the best 3-in-1 product for all you blemish-prone friends out there; effectively treating currently-acting acne, lightens old acne marks, and prevents new breakouts from occurring by regulating sebum production.
Although the BC is easily the best product meant for my skin issue, it's still my least favourite of the lot, for the gel-cream product has a consistency that kind of sits on the skin surface (although it's not exactly oily/sticky/heavy), rather than getting absorbed fully by the skin like the rest of the products.
And finally, I'll end my routine (on good days) with the Oil-Free Moisturizer (RTP $95.23), which is a lightweight and non-greasy moisturizer that's packed with ingredients specially selected to regulate sebum, control acne, minimize shine and lighten blemish marks. Not only that, the OM is also enriched with Vitamin C, E and A derivative to help clear up my complexion.
I love how just a single full pump of seemingly very little product can easily spread over my full face, leaving my skin feeling hydrated and supple. I'm not sure if I'm making any sense here, but somehow I feel that the OM also helps to push (?!) the BC (which I've previously mentioned that it tends to give this sitting-on-your-skin-surface feeling) into your skin, hence helping to end your skincare routine with a fresh face, without any sticky/heavy feeling on the skin.
And as I've said, I'll usually end with OM on good days, which sadly are hard to come by these days. So after the OM, I'll usually apply the Spot Control (RTP $30.50), which is of a watery gel-cream consistency, on those active blemishes around my chin and jaw area (die, maskne, DIE!). With a powerful, fast-acting anti-bacterial formula, the SC helps to rapidly minimise the appearance of breakouts while reducing inflammation to soothe and heal the skin. It also helps to regulate sebum production, which will be helpful in preventing new acne from developing.
And finally, the very last product in my current skincare regime will be the Facial Scrub (RTP $66.34), which contains ultra-fine crystals that effectively exfoliate dead skin cells and help speed up the skin turnover. By helping to clear out impurities and absorbing excess oil, the FS not only regulates our sebum production, but also inhibits growth of p-acne (the bacterium that causes acne) and reduces local inflammation.
I like that even though the exfoliating crystals are supposedly ultra-fine, you can still feel the gentle, light scrubbing feeling of the crystals on your face and my face feels so ridiculously smooth after every use. It's supposedly so mild that you can actually use it daily, too!
One thing that I really appreciate about IDS skincare range is that apart from the clean and sleek design packaging that's very pleasing to my eyes, it all comes in easy-to-handle and hygienic pump head dispenser, and all the products (be it PF, or OM) needs only a single full pump to dispense sufficient product means for 1 full-face application. This makes it so convenient for usage, especially when I'm typically half-awake (pre-coffee) during my daytime routine. HEH!
And now, for the moment of truth....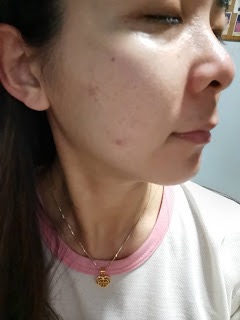 Before starting the IDS skincare products.
After just ONE WEEK of using the IDS skincare products
Taken under the exact same spot and same lighting, you can definitely see that my old acne marks around my jawline (and that huge one on my cheek) has visibly lighten.
Not only that, the condition of my disgusting whiteheads and sebaceous filaments (mine grows out in just overnight, no joke. If sebaceous filaments is worth any money, I'll be rich!) that's nearly covering my entire chin (sorry, but my Huawei P30 can't capture it) has also improved considerably. I'm definitely hyped up on seeing how my skin will eventually turn out after completing the entire course of the skincare products!
For more information on IDS Group, visit their website HERE
*Credits to Mia Foo
Visit Mia Foo's blog post here.