Honestly, I have never been a consistent person when it comes to skincare. Partly because there are multiple things on my platter and I am always in a rush. Genetically, touch-wood, my skin is overall okay. But as we age, there is a need to be more consistent, more cautious and more aware when it comes to skincare. I have realized that we can't take our skin just like our health and body for granted and that's why paid a visit to IDS Skincare to start skin on a fresh slate.
Skin concerns:
For moms like me, there are some common concerns like fine lines, wrinkles, enlarged pores, uneven skin tone and pigmentation alongside some unique issues like puffy eyes, sensitive skin, dark circles and so on. As a woman, we naturally multi-task, give birth to kids, raise them, build our careers and ventures, find time for our passion projects and all this will have some impact on our skin and on top of it, the Sun, pollution and other external factors hamper the skin badly.
In my case, dry, sensitive and eczema prone skin is a major issue and of course, who doesn't need some brightened, firmed up face?
Starting Skin On A Fresh Slate with IDS Skincare
Is doink doink skin for real? Well, doink doink is a buzz word that suggests a bouncy look. Based on personal experience, yes, with my IDS Skincare 6-Steps formula, it indeed looks possible to get plumper, hydrated and brightened skin. I have been using their skincare for a month now and yes, I'm a satisfied customer.
What happens during the first visit to IDS Skincare?
The beauty consultants do thorough analysis of the skin and then you meet the Doc. For me, Dr. Ian Tan patiently heard about my concerns and suggested quite a few valuable tips and tricks.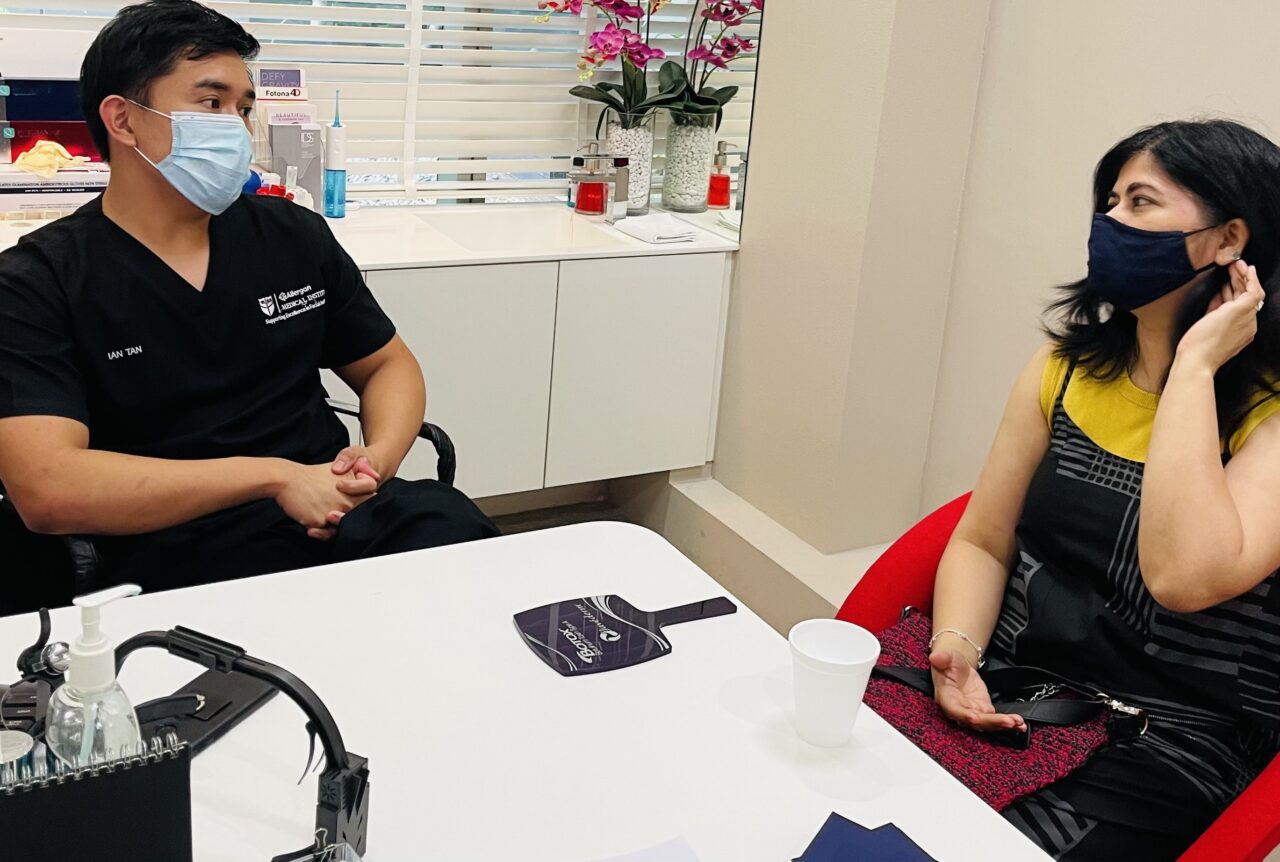 The best thing about IDS Skincare is that the skincare they prescribe is based on the skin analysis and concerns. So I must say it's customized to suit your needs.
6-Step Skin Routine Prescribed by IDS Skincare for me:
This is what I have been using for some time already and my skin looks plumper, hydrated and brightened and it just takes 3-5 mins for this routine.
C2 Delicate Cleanser – A cleanser mild enough for sensitive skin! The foam is soft and helps to remove makeup as well as lift away surface dirt, grime and pollutants. It also contains anti-inflammatory and antioxidant botanical extracts to help combat redness, environmental stress and soften the skin. Much needed for my irritable skin.
T2 Delicate Toner – Fortified with natural plant extracts to enhance hydration and soothing properties, this delicate toner refreshes and invigorates skin instantly, It also helps in skin regeneration and the condition of superficially damaged skin.
C+ Vitamin C serum – It's a potent form of Vitamin C, coupled with Nobel Prize winner "Fullerenes" and Tocopheryl for a superior antioxidant action and strong collagen stimulation.
RS Recovery serum – An enriched serum to help reduce redness and irritation, stabilizing skin immunity and capillary integrity, as well as reducing the appearance of wrinkles and improving skin tone.
MB Moisture Boost – This creamy formulation works beyond just keeping the skin moisturized. It boasts a powerful curated blend of ingredients that includes essential ceramides, skin-repairing and emollient ingredients to help you restore and maintain the natural protective function of the skin's barrier function, as well as restore damaged skin, leaving skin supple, bouncy and radiant.
S3 Tinted Sunscreen – It's Parabens-free, Fragrance-free, Opaque White Lotion-free Matte sunscreen that has powerful anti-oxidant and anti-inflammatory properties.
I will visit IDS again for a follow-up soon. Meanwhile, check below information and you can book your visit too.
*Credits to Shub RainbowDiaries
Visit Shub RainbowDiaries's blog post here.