[ Tracy ] My IDS Journey: My Customised Skincare Set from IDS Skincare
IDS Skincare, 14 June 2021
Hey people!

When it comes to beauty, having a good complexion is my top priority. I can live with frizzy hair, bare nails and dry body skin, but I CANNOT live with a blemished face.

I know how it feels like to have a full face of acne during my schooling days. My self-esteem and confidence was at a constant low, and my physical appearances then seemed to affect other aspects of my life - specifically the bullying I faced from classmates, the lack of suitors, and how unattractive I generally feel about myself. Since then, I knew that taking care of my skin was more important than anything else. It was my gateway to improving my life too.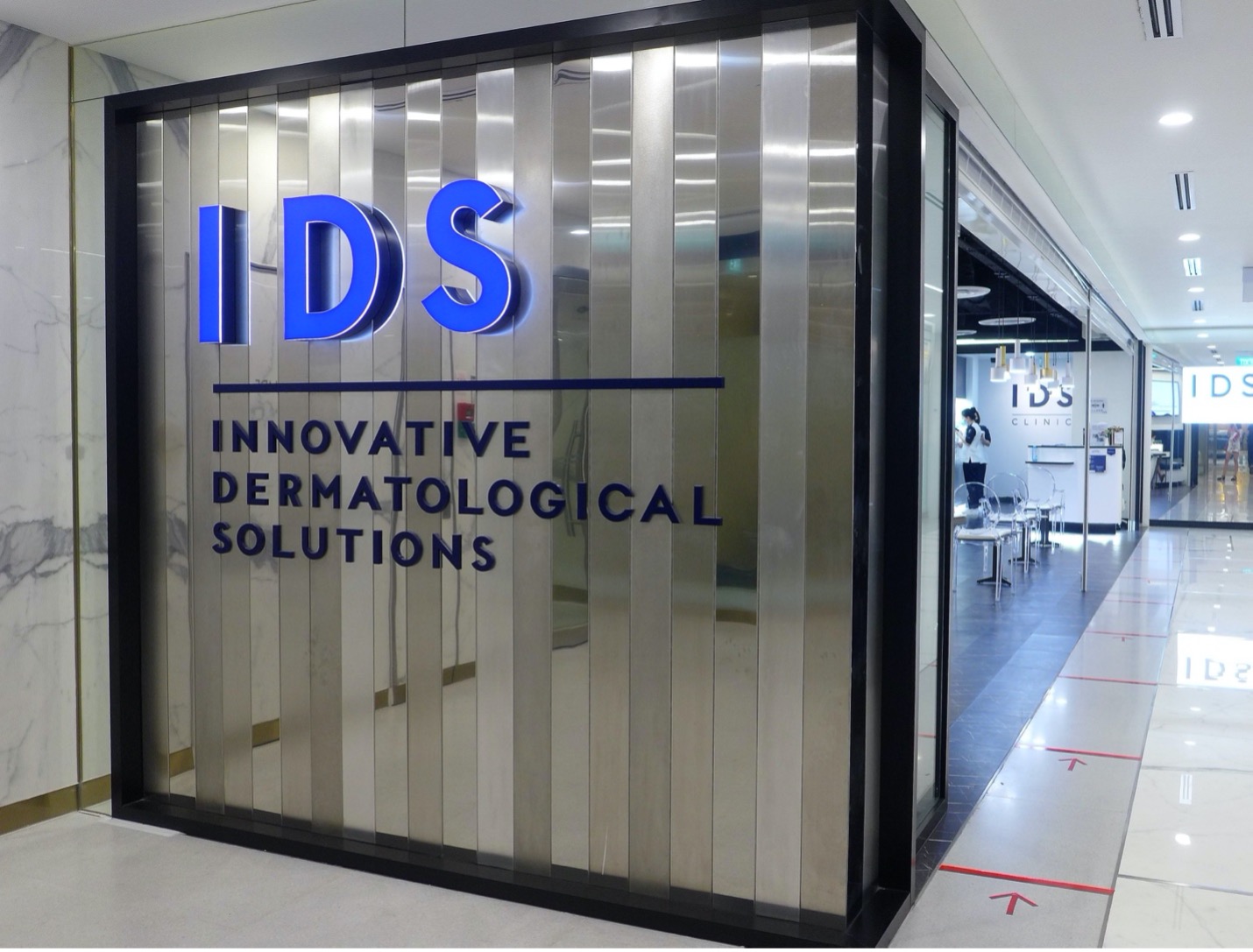 This year started off fabulous when I had the grand opportunity to visit Innovative Dermatological Solutions (IDS) and use their products. IDS is an aesthetics clinic foundedby Dr SK Tan who has at least 30 years of clinical and research experience.

IDS has been frequently featured on social media in Singapore and I have heard so many raves about their products and services. Thus, I said 'yes' to embarking on a 4-month journey with IDS.


There are two IDS clinic outlets - one at Novena Specialist Center and another at International Building. I chose to have my appointments at International Building because it is also IDS' flagship centre. Mega thankful to the staff for helping me to schedule my visits too.


I had an appointment to meet the doctor at 10.15am, and was asked to turn up 15 minutes earlier for registration. In that 15 minutes, I had to fill up a health declaration form and a personal particulars form.


I even had spare time to walk around IDS clinic to take some photos.


As seen in the picture above, IDS clinic has their own range of skincare products that the doctor would typically prescribe to patients to tackle their skin problems. They have products for Acne, Anti-Aging skin and Hyperpigmentation, which are common skin problems faced by Singaporeans.


If you notice a photo board at the back, those are polaroid shots of customers who have benefited from their IDS journey.



Time for consultation!


When I stepped into the consultation room, I was pleasantly surprised that the doctor assigned to assess my skin was Dr Benjamin Yim, whom I have met 6 years ago in another aesthetics media event. No wonder we found one another so familiar!


I shared my skin concerns with Dr Yim and told him about my long history with acne. I even had to go on a 1-year isotretinoin medication 9 years ago to clear my acne. Now that I am past my 30s, I am no longer a pimply greaseball. However, I do have occasional blemishes at my chin during the time of the month. In general, I also have a combination skin where my T-Zone (i.e. forehead and nose) is oily, but I have dry and sensitive cheeks. My cheeks are photo-sensitive due to the side effects of medication, so when I am outdoors, I may sometimes have pinkish, flushed cheeks.


Dr Yim suggested prescribing a set of skincare products for me that would:

1) Boost hydration in my skin
2) Balance my oil levels; and
3) Reduce redness and sensitivity


He explained that having a well moisturised skin would in turn brighten my skin and give me a radiant complexion. Balancing oil levels would keep my skin free of whiteheads and blackheads, thereby minimizing my pore size. Since I do have sensitive, reddish cheeks, some of the products can help to reduce redness and protect my photo-sensitive skin from harmful UV rays too.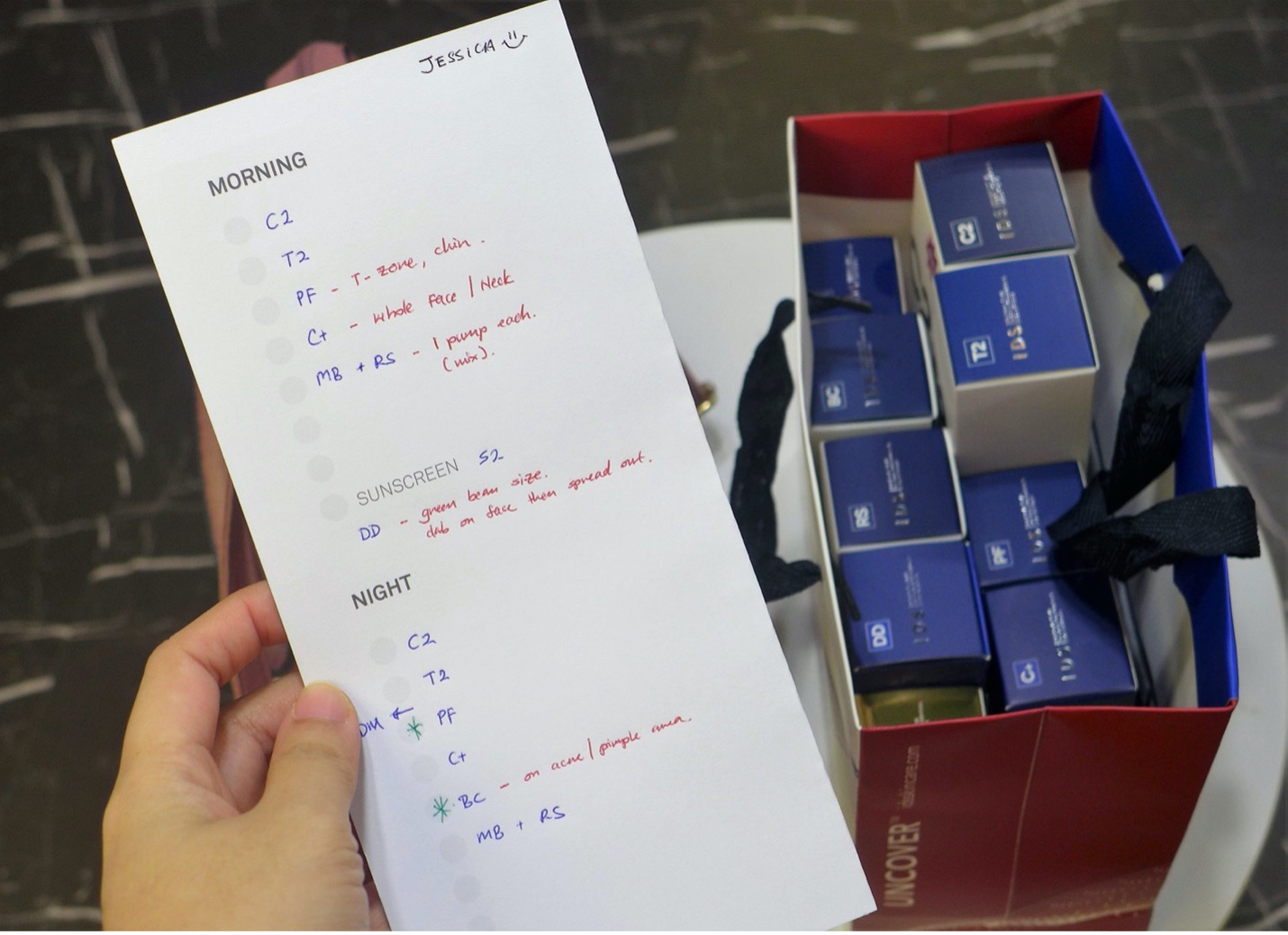 I know what you are thinking - having 10 skincare products to use may look very hardcore.


Thankfully, the clinic assistant, Jessica was super sweet to write down a schedule for me to follow so that I would not be lost among the products. Some of the products can be used on selected parts of the face; while others can be used only on a need-to basis. Thus, no worries about having to layer 10 products on your face at one go! We wouldn't recommend it too!


Let's look at the products I have to use everyday!


1. [C2] Delicate Cleanser

A gentle cleanser that is suitable for sensitive skin. It contains active ingredients such as Witch Hazel extract and Portulaca Oleracea extract.


2. [T2] Delicate Toner

An antioxidant-rich toner with Trehalose, Allantoin, Centella Asiatica and Witch Hazel extracts.

You can spray the toner onto your face directly and pat it till it is fully absorbed; or you can apply it on a facial cotton pad and swipe around your skin as a double cleanser. I prefer the former method!


3. [PF] Pore Formula

One of my skin concerns was my large pores. I was recommended to apply the Pore Formula day and night only at my T-zone and chin where I am prone to oil and breakouts.

The Pore Formula contains tea tree oil, red clover extract and lilac extract to balance skin condition, reduce excessive sebum production and control inflammation. The smell of tea tree was strong in this product. I also try to avoid applying the Pore Formula on my cheeks because its ingredients were a tad drying. Nonetheless, it did its job well in minimizing my pores at my target areas.


4. [C+] C-Plus Serum

YAYY I love Vitamin C Serums so I was really happy that this was prescribed to me.

This C-Plus Serum helps to even out skin tone, lighten blemish marks and reduce the appearance of fine lines over time. It also contains Fullerenes, which are carbon molecules to suppress melanin and sebum production. I was asked to apply the C-Plus Serum day and night on my entire face and neck. It was so nourishing to my skin!


5. [BC] Blemish Clear

Dr Yim was aware that I get breakouts occasionally at my chin (i.e. the hormonal zone on my face) during the time of the month.

Thus, I was recommended to apply Blemish Clear only at night at my pimple zones. This product helps to impede acne and minimize breakouts. It also contains salicylic acid, a common ingredient in pimple creams, which helps to remove dead skin cells and excessive sebum from the face. I had a random pimple at my chin when I was testing this product, and it helped to dry my pimple up very quickly!


6. [MB] Moisture Boost + [RS] Recovery Serum

Finally, I have to end off my skincare routine with a Moisturiser, aka the Moisture Boost. One of the key ingredients in the Moisture Boost is hyaluronic acid, which is known for boosting and locking moisture in skin, keeping your complexion well hydrated throughout the day and night.

As I have sensitive, reddish cheeks that can become dry and flakey after a shower, I was asked to add 1 pump of Recovery Serum to my moisturizer to enhance its moisturising effects. At the same time, it reduces redness and sensitivity, particularly at areas that are exceptionally dry. Despite having to use two products at one go, I am loving the 'feels' of both products on my skin. They were super lightweight and soothing!



These are some of the products that I use occasionally:


7. [DD] Diamond-Dust Perfector

The Diamond-Dust Perfector is a make-up base that helps to even out your skin tone and conceal imperfections. Sometimes, clients are prescribed a make-up base to conceal redness or marks after a laser treatment.

I was particularly impressed by how well the Diamond-Dust Perfector was able to even out my skin tone and leave behind a radiant finish. It also felt comfortable on my skin, and I liked how it allowed my skin to 'breathe'. Although I only use the DD Perfector if I have to go to work or appointments, I have been using this product more frequently than expected. It has lasted the long hours with a relatively good coverage. Thumbs up for this!


8. [S2] Non-tinted Sunscreen SPF 50 PA++

Having a photo-sensitive skin for life also meant that sunscreen is the most essential beauty product in my skincare collection. I never leave home without applying a layer of sunscreen on my face, even on days when I do not wear makeup.

This lightweight sunscreen worked wonderfully in hydrating my skin while protecting it from harmful UV rays. They have a tinted version as well if you prefer a bit more coverage, but non-tinted ones are good enough for me!


9. [DM] Dermashield Mask

As part of 'me-time', I like to pamper my skin with a sheet mask at the end of the week.

I have actually used both pieces of Dermashield masks already and was blown away by how moisturising they felt against my skin. I could feel my skin drinking the essence of the masks up. Love the cooling sensation of the masks, and how they instantaneously brightened my complexion too.
It's been close to two weeks of using IDS products and I am seeing vast improvements in my complexion. Thank you IDS Skincare for the generous set of customised skincare products, and for working with me to achieve my desired flawless complexion. Looking forward to my next visit already!


If you have a nagging skin concern, do check out IDS at their address and social media links below. Meanwhile, stay tuned to my next 'IDS Journey' blog review on their facials!


Social Media
IDS Skincare Website: Link
IDS E-store: Link

IDS Aesthetics Facebook: Link
IDS Skincare Facebook: Link
JYX.shop Facebook: Link

IDS Aesthetics Instagram: Link
IDS Skincare Instagram: Link
JYX.shop Instagram: Link


Address
IDS Clinic
360 Orchard Road, #02-02
International Building
Singapore 238869


Operating hours
10am to 8pm (Mon to Fri)
10am to 5pm (Sat)
Closed on Sundays and Public Holidays


Disclaimer: This post is done in collaboration with IDS Skincare & Studio 155. Reviews are based on personal experiences.
*Credits to Tracy Wong
Visit Tracy Wong's blog post here.