Every time I visit, I am blown away by the professionalism and the operational efficiency of IDS. I dread clinic or salon visits considering the fact that there would be a lot of queue, but however there is hardly any waiting time at IDS for which I am extremely thankful.
Coming to my follow up consultation, IDS examined my skin and suggested The Pico Laser treatment to tighten the pores and also to reduce the acne scars. Later I was led to a preparation room, where the doctor's assistant prepped my skin by cleansing it and also by applying the numbing cream.
There was a waiting time of 15 minutes for the numbing cream to work and later I was led to the actual laser treatment room in under 10 minutes with a short interval in order to let me relax a bit.
Waiting for numbing Cream to start its work
About the Pico Laser Treatment :
A newer type of laser is also used in the IDS – the "picosecond" laser.
The "Pico" in "PicoLasers" refers to Picosecond, which is one trillionth of a second. It differs from traditional Q-switched Lasers which fire laser beams in the nanosecond (billionth of a second) duration. Picosecond lasers are approximately ten times faster than nanosecond Q-switched lasers. This laser technology theoretically works more efficiently in targeting the specific tissues with less surrounding tissue damage.
Picosecond lasers have also been found to be effective in treating skin texture problems such as acne scars and wrinkles. This is due to its ability to stimulate collagen at deeper layers of the skin which is the result of stimulating the body's natural healing process. There are a number of theories as to why this laser technology helps remodel and produce collagen. One of the most interesting is that the rapid delivery of laser light might stimulate a vibration throughout the surface of the skin, triggering the collagen response.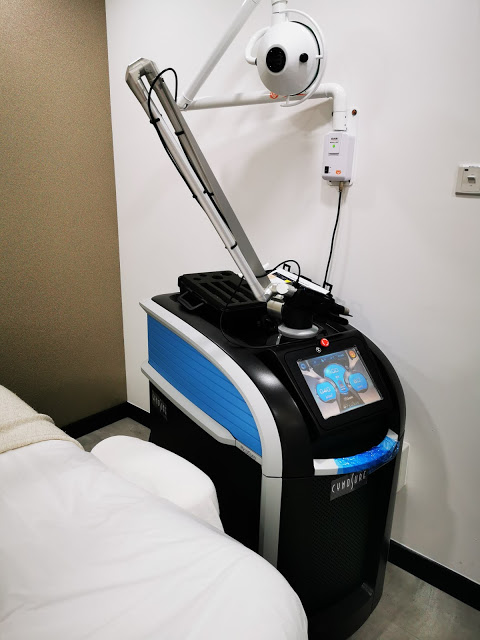 Pico Laser Instrument at IDS
The Picolaser Treatment & Its Effects on My Skin :
The treatment lasted for about 6 to 7 minutes with a break to avoid excessive burning sensation. I felt a sharp tingling sensation when the laser was being administered , but the doctor kept assuring me that my skin was behaving well.
Performed the Pico Laser Treatment at IDS

I felt the burning / tingling sensation for about 10 to 15 minutes post the session but later felt much better. This was my first time trying laser treatment of any sorts and hence I was a bit apprehensive/concerned of the burning, but later learnt that it was totally normal.
I was asked to wait for 4 or 5 days to notice any difference in my skin since the body begins to react to the laser only after a specific duration. I had to stay patient to observe the changes and after about a week I felt my skin had become really taut but there were no reductions in the scars. In fact, I felt that my scars got better after their Cryo Theraupeutic treatment more than the laser treatment.
The progress I noticed in the first 2 months was pretty good because of the combined effects of the IDS skincare products and the Cryo Therapy Treatment. The Pico laser treatment has not drastically changed my skin and the changes are still gradual as I am still continuing their skincare products. I also got my refills this time and got my hands on their C+ and their facial cleansers.
Overall, I highly recommend The IDS Skincare's products especially Their PORE FORMULA & SCRUB and also their Facial treatments if you wish to get a better skin.
Day 1 AT THE START OF THE PROGRAM
AFTER 2.5 MONTHS - REDUCED SCARS & TIGHTER PORES
*Credits to Harine
Visit Harine's blog post here.